First to Respond! Serving since 1986
---
SMOKE ALARMS
January 8, 2015: Anyone the that lives in the Paulina School boundary that needs a new smoke detector please let Jodie or Sarah know. We have a few now and we will get more if there is a need.
Paulina Fire
Donations of goods have been suspended at this time. All of those affect by the fire would like to express their heartfelt thanks for all of the donations, prayers and well wishes they have received.

The response to this disaster has been overwhelming and everyone appreciates the outpouring of love and support they have received.

Thank you to the people of the Upper Country, Prineville, Powell Butte, Crook County, Fossil Community, Spray Community and everyone at Mitchell for your support and donations. Thank you to those from Bend, Terrebonne, Salem, and Newberg (and anyone I might have missed) for your support and donations. Thank you to those in California for your support and donations. What a great place to live!


THANK YOU!
ELKS LODGE BENEFIT DINNER - RSVP Today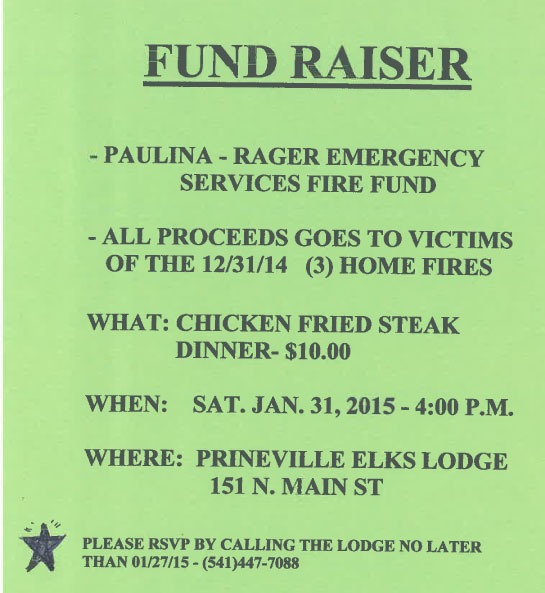 In the early morning hours of December 31, 2014 RES was called to a fire in Paulina.
It was a devastating tragedy for our little community. Many people are wanting to help.
Below you will find links to articles and the needs of the people that where involved. Also you will find a PayPal button if you would like to make a donation to the Paulina Fire Fund.
THANK YOU! What a great and giving community we live in.
UPDATE:From Sarah Young Teskey: January 3, 2015
THANK YOU so much to everyone who came today and donated to the people impacted by the fires in Paulina, Oregon USA. What a blessing you all are!
Many have offered furniture and other large items that might be needed. We will know more after this week as to what other furniture would be helpful.
We are sorting through clothes, jackets shoes and bath items, and much much more and feel there has been plenty donated to make these folks comfortable during the initial stage of recovering.
If you would still like to help those impacted by the fires, PLEASE see the link below and make a financial donation through Rager Emergency Services, Ltd. These funds will go directly to all who lost belongings in the fires.
Again, THANK YOU! What a great and giving community we live in.
Donations may be made through PayPal.
100% of the funds received will be dispersed to those harmed by the fire.

Rager Emergency Services is a 501(c)3 Non-profit organizations.
Your donations are tax deductible. EIN: 94-3080689
Donations of goods has been suspended at this time. Anyone we have already made arrangements with, we will still be meeting up with you.
Anyone else please wait for an update to this page. Thank you!


You may Call Jodie Fleck 541-477-3237 or Sarah Teskey 541-477-3848 if you have any questions.





If you have an Emergency please Call 911